To current Terra Experience News page

To Archive: Terra Experience News Page 2012 to 2013

Archive: Terra Experience News Page 2000 to 2011 (this page)
December 11, 2011 - Happy Holidays!!! Just added 4 more large Angelina Paintings to web!
November 27, 2011
Fair Trade gifts are gifts that come with a story.
It's the story of the artisan who handcrafted the beautiful product often in his or her home. It's the story of the artisan's children who are in school and eating better because the artisan regularly receives a fair wage for the product. It's the story of the community, the environment and the cultural traditions that are sustained by the purchase of the handcrafted product. When you give a fair trade gift to a friend or loved one, you give a great gift and a story that says so much more. Won't you help us share these stories this holiday season?

Some Gift Ideas

For the Family



Folk Tapestries


Multitude of Paintings



2012 Arte Maya Calendar


Table Clothes & Runners


Santos

For Her

Todos Santos Bags

Scarves

Beautiful Silver
Earrings

Huipiles
For Your Doll

Fun Doll Hammocks

18" Doll clothes many styles

MT Fair Trade Dolls


Doll Hats

For All Kids

Colorful Hacky Sacks

Over 50
Children's' Books
For Him

Paintings


Men's Shirts & Traditional Traje

Scarves


Belts


Woodcarvings & Slingshots
Oct 24, 2011 Check out the blog I wrote on "Chicago Fair Trade Artisan Stories"
Oct 13, 2011 Just added a bunch (8) of beautiful jaspe skirts to the Santiago Atitlan Web Page - Some examples:
Oct 8, 2011
Friday, October 28 at 6:00pm, National Museum of Mexican Art
If you are in the Chicago area - please consider coming and enjoying a fun evening and supporting fair trade in Chicago. Terra Experience has donated items to CFT silent auction. I'll be there and I'd love to meet you. Lynn
August 26, 2011 - We now have the 2012 Arte Maya Calendar
August 18, 2011 --- We have just updated our Mayan Doll Hammock page with many new doll hammocks.
August 4, 2011 --- More huipils that I collected during the last 3 years are for sale on the web.
This time 12 huipls from Santiago Atitlan and 10 from Santa Catarina Polopo. Check them out:
______________________
August 1, 2011 ---
Hi Friends - I'm updating the Terra Experience web site with pictures and stories of the artisans and villages I've taken during the past several years..
Here is an example. Maria gives us a quick tour of Nahuala.
http://www.terraexperience.com/v_Nahuala_p.html
I'd appreciate your input and advice. Please check it out ---
Send your comments to Lynn@terraexperience.com . THANKS! Lynn
_________________________________
August 1, 2011 --- I'm finally working on my web again. Check out our Nahuala huipil page:
http://www.terraexperience.com/p_huipils_Nahuala.html I have an incredible selection of 39 beautiful Nahuala, Guatemala Huipils and skirts. I had some from the last two years that just didn't get on the web, and then this year I visited Maria in Nahuala and bought even more! I am unlikely to have this type of selection again.
I also have a good selection of soft indigo cotton Nahuala skirts or Morga's with hand embroidered randas. http://www.terraexperience.com/p_textiles_Nahuala_Guatemala_skirt_sash_tzute.html
May 20, 2011 - Just finished putting some Tactic Huipiles on the web. Check out
http://www.terraexperience.com/p_huipils_Tactic.html
April 18, 2011 - Just finished my taxes!!! Now can get working on the fun stuff.
Just added our new spring scarves to the web. Check them out for Spring Fun & Mother's Day.
Click on the pictures below to get to the page. Many more colors for everyone!
April 13, 2011 - Click on the "View Cart" Button (below) to see your cart and/or check out
A couple people (especially those using Google Chrome) have said they are having trouble viewing or finding the Terra Experience Paypal Cart and paying for what they want to order. Needless-to-say I'm working on it. In the interim, you can use the "View Cart" button (above). You can always go to "Home" page and use the "View Cart" button (top right column). If you are having trouble, please let me know lynn@terraexperience.com . You may want to try checking your browser to see if there is another window open that actually is your Paypal Cart or using Explorer as your browser. If you are having trouble, please let me know lynn@terraexperience.com or give a call (608-231-1247shop or 608-849-8720 web home). It really helps to get your feedback. Thanks for your help and patience.! Lynn
---
April 13, 2011 - Just added over 20 Patzun Huipils to the Web Site. A few of them are shown below. Click on any of the pictures to get to the Patzun Page.
---
March 25, 2011 - We did get to Guatemala in February. It was wonderful after a hard winter to enjoy the warmth of Guatemalan friends and climate. I'll gradually be sharing some of my experiences and pictures I took as well as adding many new items to the Terra Experience web site that I purchased during the trip.
During the trip I got to visit the women that make the wonderful Mayan Art Folk Tapestries that Terra Experience has been selling. I bought over 40 tapestries this trip - many wonderful ones of "barrilette" kite flying. A few picture are below -- to see more go to Tapestries or click on any of the pictures.
March 24, 2011 - Finally getting back to update the Terra Experience web site. Its been a while. My Dad passed away January 11 this year. He was 93 and passed away comfortably at his home with my husband and I present. Wanted to share my favorite picture of him and some of his wonderful oil paintings and favorite view from his dinning room table. Hope you enjoy!
What's New at
Terra Experience's Web
Happy Holidays!!! Have a wonderful holiday with your family!!!!!
Hi Everyone!!! I haven't kept the news up as much as I should have. Been helping my 93 year old Dad. Have been adding new things to the web though so please check it out.
Some good fair trade gifts for the holidays to think about. I'll be adding more.
Happy late Summer!!!

Now have the Arte Maya 2011 Calendars Available!!! They are beautiful. To order
Hope you have had a good summer. I have spent a lot of it helping my 93 year old Dad who lives in his own house about 2 hours from my home. So haven't had as much time to put things on the web as I wished. Anyway, will be adding a lot more soon...
5/20/2010 ---- Just added a number of calendar huipils from Patzun
http://www.terraexperience.com/p_huipils_Patzun.html







5/11/2010 ---- Just added 12 huipiles from Santa Catarina Polopo.
http://terraexperience.com/p_huipils_Santa_Catarina_Palopo.html







Just added 10 new hupiles from Santiago Atitlan.
http://www.terraexperience.com/p_huipils_Santiago_Atitlan.html
Just added 21 new hupiles from Nahuala and Santa Catarina Ixtahuacan
http://www.terraexperience.com/p_huipils_Nahuala.html
3/25/2010 ---- Just added many new Santos and Folk Tapestries from our trip. Click on pictures below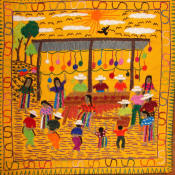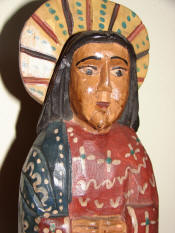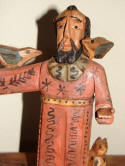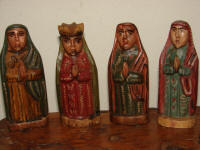 3/14/2010 ---- We just added larger 14" x 66" scarves of many colors. They are beautiful and finely made. Click here to see them or on one of the pictures below
: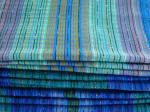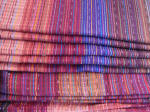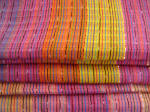 We also have restocked our supply of smaller 11" x 50" scarves with many spring colors.
Click here to see them or on one of the pictures below
Happy New Year ---
March 7, 2010 --- Yes, its been a busy New Year. We went to Guatemala Jan 13 and came home Feb 9th. As my husband Dave said - I helped the economy of Guatemala by buying lots of doll clothes and other neat stuff from old friends as well as well as made some new friends that eventually will bring new villages into Terra Experience's 18" doll wardrobe. Lots of new scarves and other things that I need to add to the website. We also have lots of doll hammocks, new "used" huipils and children's traje, traditional earings, Santos, paintings and much more. The shipment came in last week. I am behind getting stuff on because my 92 year old-Dad got pneumonia (he is doing better now) and my primary laptop's hard-drive had trouble (it is being replaced today - keep your fingers crossed I backed it up well). I am limping by using gmail to respond to my email. So please keep your emails and questions coming --- and send them again just in case they got lost when my hard-drive got into trouble. Lynn lynn@terraexperience.com
December 20, 2009 ---- Happy Holidays!!!

Looking for a last minute gift:
(we mail daily, if you don't get, put a picture in the Christmas stocking and you will get it soon)

Beautiful sterling silver earrings by Luis who is putting his daughter through medical school.


Beautiful handwoven scarves from San Antonio Palopo and San Juan La Laguna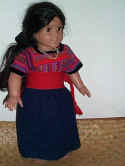 Doll Clothes for 18" Dolls such as American Girl
We have also updated a number of the huipil pages:

Panajachel

Nahuala



San Juan Sacatapezuez
October 10, 2009 ---- Whoops time flies again. I've done a lot since I last wrote on this page. Some of the stuff:
Updated the Children's Book Page, adding some really good titles and found copies of some old favorites

Updated Huipil Page and added many new huipils from:

I still have about 150+ I need to get on web - so come back soon to check what is new.


Updated Belt Page and added many new ones from:
Updated our Event Page (shows you can find us at) - we are adding an event in La Crosse

May 28, 2009 - Time flies again. Had great events at the beginning of May and then got lost in transplanting in my garden and wetland (its finally spring in Madison WI). Started to rain so expect more additions to the Terra Experience Web.
April 5, 2009 - Just got our page of 23" doll clothes that fit My Twinn and similar dolls updated. Check out the fun clothes at
http://www.terraexperience.com/DC_23_inch.html
March 15, 2009 - Want to keep up with new products and what we just updated on our web site? We just joined

.You can become a friend and be the first to know what we have added. Our twitter name is "terraexperience". I think you can reach it at http://twitter.com/terraexperience Just for those of you who like me didn't know what Twitter is - "Twitter is a service for friends, family, and co–workers to communicate and stay connected through the exchange of quick, frequent answers to one simple question: What are you doing?" I have thought about a blog or newsletter - but this seems easier. Let me know what you think lynn@terraexperience.com
March 12, 2009 - Just Added Many new Santos to our web site. Check out: http://www.terraexperience.com/p_wood_santos_figures.htm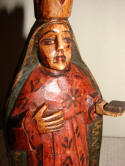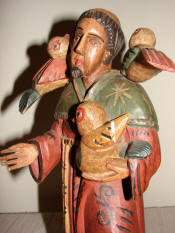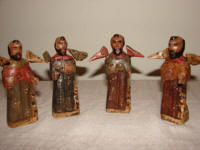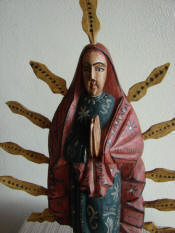 March 3, 2009 --- Many New Tapestries added. Check out http://terraexperience.com/P_Mayan_Folk_Art_Tapestries_Guatemala.html
Feb 17 2009 --- Back from Guatemala. Our shipment just arrived. It will take a while to get things listed. Please keep checking back. Things we have updated are:
Tapestries (have added some of the new ones we brought back with us
Feb 16 2009 --- How to put a huipile on a doll? One of my customers had trouble putting a Santa Catarina Doll Huipil on her doll while we were in Guatemala and I promised I would demonstrate how to do it. I hoped to have one of the weaver's daughters demonstrate, but ran out of time. The basic hint is to put the dolls arms up as you put the huipil on. If you are still having trouble, check out "How to put a huipil on your doll". I don't think you are going to have any problems, but if you do please let me know - so I can find a solution for you and improve our products in the future. Thanks Lynn@terraexperience.com
Jan 18 - Feb 8th --- We are in Guatemala visiting friends and finding out what neat things we can buy from them. We can't ship while we are in Guatemala ---- but if you aren't in a hurry, you can buy something and we will ship soon after we get back (probably around Feb 10th. In case two people buy two of a unique item such as a hupil, the first to purchase gets priority (my web site doesn't automatically remove an item when sold). I do check my email every so often while in Guatemala.
Keep warm, and do come back and check out what we found! Lynn@terraexperience.com
Jan 7, 2009
If you happen to be in North Carolina area check out the Wise Women show
at the Halle Cultural Arts Center of Apex, North Carolina
http://www.apexnc.org/depts/parks/artsCenter.cfm


You will find Terra Experience Huipils, Tapestries and Doll Clothes displayed as well as
pictures of some of the Wise Women from Guatemala who make them. Note: if you see the note above on one of our products on the web - that means the item is being shown at the show. All items that don't sell will be returning 2/15/2009. Contact lynn@terraexperience.com if you are interested in the piece and I'll let you know when it is available.
Wise Women Art Show
Jan 2 - Feb 9,
Reception Jan. 16th
WISE WOMEN is a photographic celebration of the power and beauty of women in the third phase of their lives. Photographer Joyce Tenneson of New York City traveled throughout America to photograph and interview women between ages 65 to 100. What she found was a revelation!
This exhibit also features various textile art, fabrics, rugs and clothing.
Hours of Operation:
Monday - Friday 9am - 6pm, Saturday 9am - 1pm
The Halle Cultural Arts Center of Apex is located at 237 North Salem Street in Historic downtown Apex. It currently has 3 galleries, 2 studio classrooms, and a 135 seat theatre. (
Driving directions

)
____________________
December 1, 2008 ---- We just added a Not Quite Perfect Huipil page. Contact us if you see one you like.
November 27, 2008 --- Happy Thanksgiving!!! I have been busy and have lots of new doll outfits, huipils etc. but just haven't had time to keep up with the news. So please check out our inventory. I think you will like it. Lynn
September 14, 2008 --- I've been delinquent on keeping this dialogue up to let you know what is new. Just added 35 new huipils to the site (mostly Chajul, Chichi, Nahuala, and a variety of others). I'll be adding more soon.
March 31, 2008 --- Madison Guatemala Network to host Guatemala speaker April 20-23rd
March 27, 2008 --- Coming soon Traje for Girls and Dolls
February 14, 2008 ---
February 12, 2008 --- whoa - Time flies. Hope you had good holidays and start of new year. In Madison we have beat our snow record with over 76" so far this winter. We went to Guatemala for 2 1/2 weeks where my Sony H2 camera had the shutter button drop off (worthless) and when I got back my laptop crashed (now with new motherboard and screen - thanks to Dell's extended warranty). Both are fixed and I am almost caught up to where I was at the beginning of the year with lots of new stuff from Guatemala that I am gradually adding. Some things I've managed to update so far:
November 24 --- Terra Experience's doll clothes were identified by COOP America as one of "10 Green Toys for the Holidays"!!! Check out http://www.coopamerica.org/programs/shopunshop/10GreenToys.cfm
6. Doll clothes – The owner of Terra Experience follows the Fair Trade Federation model, by keeping close ties with her producer partners in Guatemala. She partners with Mayan weavers to offer high-quality traditional outfits that fit 18" and other sized dolls. Terra Experience commits to paying a living wage, supporting environmental protection projects within the producer community, and has ongoing relationships with producer partners. The Terra Experience Web site includes a full breakdown of payments and benefits to the producer group so shoppers can follow where their dollars are going. Line of products includes dolls; hand-woven doll outfits; doll accessories like hats, bags, aprons, and jewelry; and children's books about the Mayan culture.
October 23, 2007 --

2008 Arte Maya Calendars are finally here!
September 27, 2007 --- added 7 huipiles from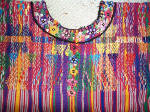 San Raimundo S
September 26, 2007 --- Just updated the Tzute (carrying cloth/tablecloth) page and added 9 huipiles from
September 25, 2007 --- Just added 10 very wearable huipils from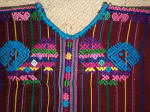 San Dominigo Xenacoj
September 24, 2007 --- 15 New Huipils on Terra Experience Web:
September 22, 2007 --- Just added lots of boy's and men's shirts from San Antonio Palopo
September 2007 --- Whoa what a July and August it was! Helped my Dad celebrate his 90th birthday in July and then in August he ended up in the hospital with pneumonia. He is doing well now and is safely at home enjoying his view of the migrating white pelicans along the Mississippi. In Madison we had the wettest August (actually month) on record with over 15" of rain. No sandbags, but the natural wetland I planted after our last flood needed some restoration work. Anyway - I'm back focusing on the Terra Experience web and just put over 50 new Huipiles on our web site and have others to add. Please check our huipil page out.
June 15, 2007

Click the picture to Watch a You Tube Video of Josefina Relaxing in her Hammock. Can you name the birds you hear?

Note I am just learning how to put together videos and get them on you tube. Once I figure it out I will upload some clips I took in January this year and hopefully have them directly on my site. I have to find some young expert to help me.

June 11, 2007 --- Fair Trade Commitment I finally have found time to pull together a web page that explains and documents Terra Experience's Commitment to Fair Trade and Environmental Responsibility and some of the actions we are taking to meet that commitment. I attended the Fair Trade Federation's Conference in Washington D.C. earlier this month and realized I really had to take the time to get this down in black and white. If you have questions, comments, suggestions I welcome them.

Our
Commitment
to Fair Trade and Environmental
Mark your calendars - the American Girl Doll Sale is Saturday July 21 and Sunday July 22. We will be at a new location. 2230 Pinehurst Drive --- just around the corner from where we have been in past years. Please look for us there.
May 6, 2007 --- I am finally getting time to update my web site (I retired from 32 years with the Wisconsin Department of Natural Resources in January and also bought a new digital camera). I just put together information and pictures about the weavers that Terra Experience has worked with to make its doll clothes as well as artists and artisans we have regularly bought from over the past 5 to 8 years as Terra Experience has gradually grown. We will be adding more in the near future. But in the meantime please check out:
April 24, 2007 --- Just back from Chicago's Green Business Conference & Festival. Neat event to see the number of Green Consumers!!! I've updated and added Huipils to the Todos Santos and Quetzaltenango (Xela) web sites.
April 1, 2007 --- Just added 14 New Tapestries we picked up this year. Some examples are shown below
March 29, 2007 --- Well we are back from Guatemala and I have my taxes done, so I will be putting stuff on as fast as I can. Here are some of the items and pages I have updated recently. Thanks for your patience
Don't forget to refresh your pages that have been updated!!!
Paintings by Angelina Chic Ixtamer

Updated
Huipil Pages


Santiago Atitlan
Spring Scarves Now Available (Refresh your old page)

Todos Santos Bags and Purses by Francisco
December 7, 2006 -- Just Updated Paintings Pages & Added at least 30 New paintings and several new artists. Our paintings options are now organized by Village and Artist. I've been meaning to do this for a while - but just not had the time. Will also be adding pictures of many of the artists. You can get a idea of the style of some of the artists by checking http://terraexperience.com/P_Paintings_Guatemala.html or go to our products page and look up the names of the individual painters or family of painters at http://www.terraexperience.com/p_products.html#Arts_and_Crafts
Sept 20, 2006 -


Just arrived 2007Arte Maya Calendars. We usually sell out so get them while they are available!!!
August 14. 2006 - New additions!!!
October 11, 2005 - Guatemala Flood & Mudslides create more misery and challenges. We have put together links to information about the Guatemala Flood and ways to help through NGO's that already work in the affected area
October 11, 2005 - Calendar of Fun Events Terra Experience will be selling at. Please mark you calendar. The Madison Fair Trade Festival will be Dec 3rd at Madison Technical College Downtown (new location, same great stuff). We will also be in Steven's Point and Burlington this fall.
September 27, 2005 - New things we have added in last week
August 19, 2005 - Just updated a number of village huipil pages to include more adult and child sized huipiles and cortes (skirts) from the village. Click on the name or picture to get to the page.
July 20, 2005 - Working on updating my doll outfit pages. Just updated the Santiago Atitlan doll outfit page and also added a page of "seconds" .
May 6, 2005 - A number of you may have wondered why the Terra Experience Web site has not been updated recently. My Mom, passed away April 23. She was a wonderful woman and while I miss her, her faith, life values and love will always be with me. I will be gradually updating the web and catching up on Terra Experience requests. So if I haven't responding to a inquiry in the past month or two - please feel free to contact me again. I think, with the help of my husband Dave, I am caught up on all orders. If you haven't seen something that you did expect please let me know right away. Thanks for your understanding. Lynn Persson lynn@terraexperience.com

March 22, 2005 - Just added 15 new Mayan Naive hardboard paintings from Santiago Atitlan area.


March 14, 2005 - Just added 8 beautiful huipiles from Chajul to the the web

Also check out the doll clothes from Chajul
Jan 27, 2005 - Just added many new Mayan Folk Art Tapestries from a woman's group in the Solola area to the web. Check them out by clicking on the picture below.


Jan 21, 2005 - Back from Guatemala where we saw many friends and helped out at Casa de Luz with a good friend who is a doctor (OB/Gyne). Will have lots of fun stuff and pictures to add to the Terra Experience Web soon.
Oct 20, 2004 - Paypal is working fine now. They were upgrading their system and had problems during transaction. You shouldn't have any problems now.
Oct 11, 2004 - Note - Paypal payments has had intermittent problems since Friday Oct 8th - If you are having trouble using Terra Experience's shopping cart system please use our old ordering system or contact us at lynn@terraexperience.com (if you include a phone number we will call you back within 24 hours)
Oct 8, 2004 - Just updated San Juan Laguna Web Page and added Huipils from San Juan and a neighboring village San Marcos La Laguna http://www.terraexperience.com/p_huipils_San_Juan_la_Laguna.html
Oct 7, 2004 -

New - Mayan Folk Art Embroidered Tapestries

These wonderful embroidered tapestries are folk art of today - where traditional Mayan skills and themes have found a new medium of expression. This project was started in 2001 by Ramelle Gonzoles, the founder of Foundations for Education a nonprofit organization which provides financial and logistical assistance so that Maya youth can go to secondary schools.
Oct 5, 2004 -

Looms for Dolls

We just added wonderful complete small looms to our web. They are great for display and hanging. You can even used them (if you are an experienced weaver)

Oct 1, 2004 - We now have new fun stuff --- teachers and parents " Mayan Kits" that can be used with Marilyn Anderson's new Teachers Guides on Fair Trade and the Mayan Culture. For those sharing the Mayan Experience with children we hope these will be valued additions both in the classroom and at home.
Sept 15, 2004 - We just got our copies of Tzute Maya 2005 calendar. We ran out last year, so please order early.


Summer 2004 - My Mom was in the hospital this summer, so I didn't have much time to keep my web up. Glad to say she is now improving. Check back soon and we will be adding lots of new stuff --- Lynn
June 24, 2004 - We have just added hand-woven doll huipils from Chajul and San Juan Sacatepequez. Click on pictures below to see:
| | |
| --- | --- |
| Chajul | San Juan |
May 10, 2004 - I can finally update the Terra Experience web (see note below). Check back to see our new stuff soon!!!
May 7, 2004 - I am really glad you are able to read our news!!! If you have any trouble using or accessing the Terra Experience Site - please contact lynn@terraexperience.com .
My apologies if you have been looking for our site and not able to find it during the past week. Our long-standing webhost Dellhost stopped providing service and sold our account to another company who then again sold the account to Purehost last month. The experience has not been good. The Terra Experience web site was down for the last 7 days and I have not yet been able to get access to my web to update it via Frontpage or FTP (I am updating this page via an incredibly inefficient option) since Purehost took over. Hopefully things will be better soon and we will be able to add all our new huipiles and doll outfits to the site!!!
March 1, 2004 - We are back from a wonderful trip to Guatemala. Just added many new paintings that we brought back to the Terra Experience Web site. We will be adding lots of other neat stuff too!!!
____________
Dec 6th - Mark your Calendar!!! Madison's Fair Trade Fair at the Pres house. Look at our home page for more information
Nov 29 - Did you see the Capital Times Weekend Edition? If not check out The Artful Shopper: Fair trade friends By Linda Brazill November 29, 2003 http://www.madison.com/captimes/features/62273.php . Its an article on Terra Experience and how we began.
Nov 10 - Check out new page : Where to Buy Fair Trade Gifts, Coffee & Chocolate In Madison, WI
Nov 4 - Web Additions
October 15, 2003
FAQ: Where Can I find a 16 or 18" Multicultural or Ethnic Doll that fits Terra Experience Doll Clothes? Answer
August 15, 2003 ----
Guatemala Human Rights Alert - Nobel Peace Prize Laureate Rigoberta Menchu Tum and her relative have been attacked and intimidated.
Please Read and Take Action >>>>>>
to
Amnesty
International Action Alertl

May 22, 2003 ---
Please note: Between May 27 and 30, 2003 we will be moving the Terra Experience Website to a larger server. We anticipate we may be down for about a day. During that time you can still see and order Terra Experience items at our temporary backup website http://terraexperience.net , The change may also temporarily affect our email. You can always reach us at our back up email terraexp@chorus.net .

Sorry for any inconvenience. http://terraexperience.com should be back and better than ever soon --- this change makes it possible to add many more pictures of Guatemala to our site. Lynn
May 7, 2003 --- We have just added many Guatemala Oil Paintings to our web site both from Santiago Atitlan Area and Comalapa. You might want to check out:
April 24, 2003 --- We have added lots of new stuff from last visit to Guatemala. You might want to check out:
January 19, 2003 --- We are heading back to Guatemala and so can't ship things until after February 20th. You can still use our Paypal shop to order something, but we can't ship it to you until after we get back. We do some one-of-a-kind items (big peoples huipiles etc) - if two people pay for the same item while we are gone, it will obviously go to the person that pays first. Our web site is fairly current as of today, with most things that were sold over the holidays - marked sold. We should have lots of neat new items when we get back.
New children's books! A number of people have asked if I had the book "My Name is Ana Maria ... and I'm from Guatemala". We managed to track down some copies and have also added some other good books to our selection.








_________________________________________
November 26, 2002 --- Time continues to Fly!!! We have just done a lot to update our web site (and continue to do more). You can now find:
__________________________________________
June 4, 2002 --- Time flies!!! We are gradually adding a Paypal ordering system to our website and making a major revision to our pictures and information on Guatemalan Villages. We are also adding a lot of new products - both child's clothes, funs stuff and new doll outfits. Keep tuned!
__________________________________________
October 20, 2000 --- We have just moved our web site to a new web host. Please update your bookmarks !. Our new webhost, Dellhost, should provide faster picture downloads and we will be adding a secure ordering form.
October 15, 2000 --- Children's Books new ---We have added children's books on Mayan culture, Guatemala and Mexico to the items we sell. A couple of my favorites are highlighted below. We have also added Books on Textiles new reference books on Guatemalan textiles that we have for sale or you might want to look up in your local library.
| | |
| --- | --- |
| | ³Angela Weaves a Dream: the Story of a Young Mayan Artist, Michele Sola (text) and Jeffrey Jay Foxx (photographs), (1997) more |
| | |
| --- | --- |
| | ³Children of the World: Guatemala; Ronnie Cummins and Rose Welch (1990) |
| | ³Step into the Aztec & Maya Worlds, Fiona Macdonald (1998) more |
| | ³De Colores and Other Latin-American Folk Songs for Children; Orozco, Jose-Luis; Elisa Kleven, illustrator; (1994) bilingual more |
| | |
| --- | --- |
| | ³The Monkey's Haircut and other Stories Told by the Maya; Bierhorst, John (ed) and Robert A. Parker, Illustrator; (1986) more. |
Click here to see more Children's Books new .
We have also improved our order form so it prints on one page.
January 12, 2000 ----- We reformated the doll accessories page and some pictures to improve downloading time. Many of the pictures are "thumbnails" and are hyperlinked to a higher quality photo. Try clicking on a picture if you want a better view.
November 5, 1999 ----- We were back in Guatemala in September and just updated our web site to reflect many of the new doll outfits and accessories we found. We have more pictures of the women (and their families) who made many of the outfits. We added an order form and a doll accessories page (check it out there is lots of new neat stuff).
As always a few parts of the web site are still being developed (and others are being continuously changed and hopefully improved), but you should be able to get an idea of the types of products we offer and how to contact us. We will be adding childrens books and reference texts on Mayan textiles to our web site soon.
We welcome your comments and suggestions (as well as your business). We also have lots of unique items that don't lend themselves well to a web site. Email or call us for more information or check what we have listed on EBAY ("terraexperience" is our Ebay name).
Lynn Persson lynn@terraexperience.com
Phone: (608)231-1247 Fax: (608)231-1445
| | |
| --- | --- |
| Your Source for Hand-woven Ethnic Doll Clothes that fit American Girl™ and other Fun Stuff from the Markets of the World | |
2140 Regent Street, Madison, WI 53705
To current Terra Experience News page

To Archive: Terra Experience News Page 2012 to 2013